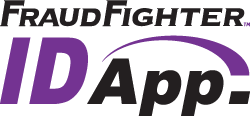 ID App is a new mobile app used to authenticate individual personal identities – wherever the person happens to be.
Using mobile devices, such as smart phones and tablets, ID App:
Uses advanced document templates to authenticate ID documents (such as driver's licenses and passports) as genuine or fake
Performs a facial-match test by comparing holder's image on the ID against a selfie-image
Conducts a liveness test to ensure facial image being used for comparison is a "live" person and not a printed photo
If you'd like to try ID App to see if it is the right fit for your business's fraud prevention needs, please fill out the form on this page.
Once you've submitted the form, one of our fraud prevention specialists will get in touch with you within a business day to set you up with a free trial of ID App.
If you have fraud-related questions and would like to get in touch with us directly, you can:
Why ID App?
Identity theft is an incredibly problematic, growing issue that impacts just about every business in every industry.
An estimated 15 million identities are stolen in the United States alone each year.
The information needed to create a new credit card account under an identity theft vicitim's name can easily be found online and only costs criminals a few dollars to obtain. When a customer is making an online purchase, how can you make sure that he or she is not actually a criminal conducting a fraudulent transaction?
Criminals conduct an average of $4,841 in fraudulent transactions per identity theft victim - every time your business gets hit by these criminals, it can feasibly cost you thounsands of dollars.
Don't become a statistic!
Protect your business from fraudulent transactions by authenticating the identity of customers before a transaction can take place by using ID App.