The credit union industry needs to protect itself against fraud by reacting quickly to new threats as criminals continue to become more creative and efficient in their use of technology to commit financial fraud at credit unions.
Fraud conducted at credit unions includes counterfeit currency, counterfeit money orders, forged or altered cashiers checks, and identity fraud involving synthetic, forged or stolen identities. Virtually every transaction that occurs at a credit union is exposed to one of these types of fraud.
The financial services marketplace has undergone a remarkable transformation over the last decade. The aftermath of the financial crisis led to bankruptcies and mass-consolidation which changed the size and nature of the players. But, contributing more than anything else to the disruption in the industry has been the continuing growth of digital channels that require "customer-not-present" transactions to be conducted.
Recent research supports this assertion. IDology conducted an extensive study in 2018 examining identity fraud behavior and trends. Their findings show that ID fraud has been increasing very rapidly:
Based on the industries surveyed, their report revealed that the financial services sector experienced the largest increase in identity fraud cases with a 71% increase compared to 2017.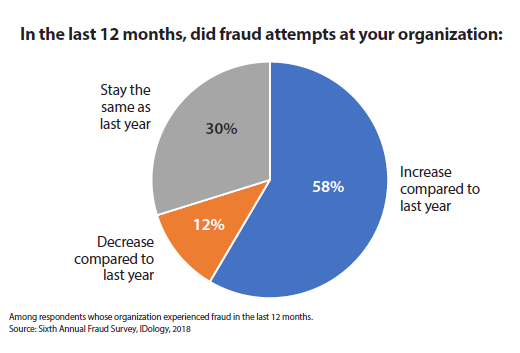 Identity Fraud at the Credit Union
Fake identification documents are used by fraudsters to open deposit accounts used to launder illicit funds, and to access funds in other people's accounts. Immediate ID verification is necessary to stop theft. Credit unions also take deposits, merchant deposits, offer safety deposit boxes and must immediately authenticate the ID being presented at the time of the transaction.
According to research firm Javelin, between 2014 and 2015, new account fraud more than doubled - with an increase of 113%. New account fraud currently accounts for 20% of all fraud losses.
- 2016 Identity Fraud: Fraud Hits an Inflection Point -
Credit Unions derive much of their revenues by issuing credit. Credit cards, home loans, equity lines of credit, business loans, student loans - this aspect of the operation is vital. It is also the leading area of fraud within the industry. Identity fraud and its rise left unchecked can strongly affect the profitability of the industry as a whole.
Optimize Regulatory Compliance when Issuing Credit
Because Credit Unions issue credit, they must comply with complex regulatory requirements to validate whom they conduct such credit transactions with by immediately verifying the authenticity of the ID being presented. Regulatory examples include the Fair Credit Act, the "Red Flag Rule", mandates associated with the Free and Accurate Credit Trade Act, the Bank Secrecy Act and the and Customer Identification Program required of all financial institutions. These combined legislative directives stipulate that issuers of credit must proactively involve themselves in the fight against identity theft by creating procedures, documented with step–by–step instructions, for how to validate ID documents of any individual applying for and being issued credit, and to maintain records of the identification for years after the event.
FraudFighter™ enables Credit Unions to immediately verify the authenticity of identification to stop crime before it can occur. We recommend and implement proven solutions designed to enhance credit union fraud prevention with easy to use, inexpensive and reliable protection controls.