Operating a vehicle rental business in the 21st century can be a tricky endeavor. In an era when fraudsters can order convincing fake IDs off the Internet and data breaches end up compromising millions of identities and payment cards, how can you stop a 'customer' from providing you with a stolen credit card paired with a fraudulent driver license and driving off with one of your cars, only to never see that car ever again - an asset worth tens of thousands of dollars?
Because you can't presume to know the intentions of all your customers, we've created a loss prevention solution that can detect fraudulent driver licenses and payment cards before a transaction can finish. In other words, we can help you catch potential criminals before they even get the chance to step foot into one of your rental cars.
DRIVER LICENSE AUTHENTICATION
Our ID document authentication solutions can help your team detect fraudulent driver licenses (and passports, national ID cards, foreign driver licenses, military IDs, and more) within a matter of seconds. Whether you use a manual ultraviolet detector or an automatic forensic authentication scanner that can archive license data, you can be sure that we have an identity authentication solution that matches your car rental company's loss prevention needs.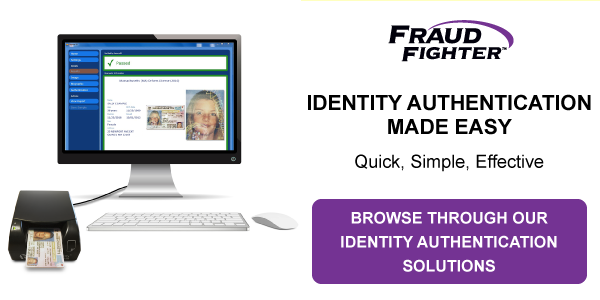 COUNTERFEIT PAYMENT DETECTION
Just like our identity authentication solutions, FraudFighter counterfeit payment detectors can aid your team in preventing counterfeit payments, whether in the form of cash or payment cards, in just seconds. Whether you require portable or stationary solutions, our counterfeit payment detectors will let your team easily catch any attempt to use a fraudulent credit or debit card, enabling you to build a solid loss prevention system.
Need held determining which type of counterfeit detector will most effectively protect your business?
Car Rental Company Case Study
Learn about how a national car rental company implemented a pilot fraud prevention program using FraudFighter products and how they stopped an estimated $300,000 in total losses from occurring in the first 90 days of the program. To download this free case study, click the download button below.