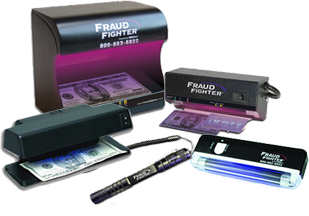 Manufacturer of the Leading Brand of Counterfeit Detectors
Call us at 800-883-8822
FraudFighter has been thwarting counterfeiters for over 20 years. We are the leading supplier of counterfeit detectors in the United States. Our selection of counterfeit detectors allows you to choose the features, functionality and price that best meets your needs.
Why did companies like Bank of America, Wells Fargo, Macys, Taco Bell, Kroger and dozens of other Fortune 500 companies choose FraudFighter?
Because this is what we do. 20 years ago, we pioneered the use of counterfeit detectors at the point-of-sale. We design and manufacture our own products, which we constantly change and improve to meet real-world requirements. We build custom solutions to meet customer needs. And, if you need to reach us, we're always here to answer the phone when you call.