Designed for counterfeit detection in highly lit retail and point-of-sale locations, the Fraud Fighter UV-16 counterfeit detector is the most powerful compact option available today. Utilizing electronically enhanced components, the ultraviolet tubes produce 30% more UV than other detection devices.
The UV-16 counterfeit detector may be used to detect counterfeit currency, credit cards, driver licenses, secure and chemically altered checks, cashier's checks, passports, visas, and many other important documents that require verification.
The UV-16 counterfeit detector has a solid steel construction and is equipped with a limited lifetime warranty. This scanner is the premier choice for businesses seeking professional quality counterfeit detection.
Each unit also comes with our updated line of counterfeit detection training and reference materials to help you identify counterfeit currency notes, ID documents, credit cards, traveler's checks, money orders, and more!
Use the same product chosen by Wells Fargo, Citizens Bank, Regions Bank, JP Morgan, Sears, Macy's, Yum! Brands, Subway, Kohls, Circle K and thousands of other banks, retailers, restaurants, casinos and businesses, both large and small.
The UV-16 counterfeit detector is warranted to be free from material and workmanship defects, as long as the original purchaser owns the unit, during the life of the product. For purposes of this warranty statement, the "Life of the Product" is defined as five (5) years from the date of original purchase. Supplier's limit of liability under this warranty is to repair or replace the product at Supplier's option. Consequential costs such as, but not limited to, loss of use, loss of time or freight charges are not covered. Any product that has been abused, altered, tampered, or incorrectly operated is not covered. Product finish is excluded from this warranty. No other warranties are expressed or implied. We reserve the right to make changes in design, materials and specifications without prior notice.
Dimensions - Length 6.6" (168 mm), Height 6" (153 mm), Width 3.5" (89 mm)
Power Input - 120 V AC
UV Lamp - 2 x Model T5UV16-POS15
Verification Strip - Strip shows proper positioning of new UV security threads and watermarks on$5, $10, $20, $50, and$100 U.S. currency.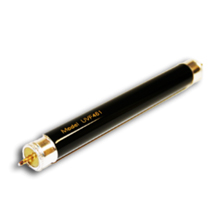 The T5UV16-POS15 tubes are a proprietary part designed and manufactured by FraudFighter™ Products. These tubes are high-efficiency fluorescent bulbs, functioning at 30,000 Hz. This bulb is the only authorized replacement part for the UV-16 and POS15 counterfeit detectors.
It is VITALLY IMPORTANT that you not use a different replacement bulb part number.
Be advised that some dealers unauthorized by FraudFighter are selling the previous part number, UVF-861. This part has been discontinued and is no longer a valid replacement part. Use of any bulb part number other than T5UV16-POS15 – including the UVF-861 bulbs sourced from unauthorized dealers - will invalidate the warranty on your UV-16 or POS15 machine and could be hazardous.
Buy the right part and don't invalidate your product warranty!